A decade before the United States was founded men, women, and children gathered in a brush arbor on Clear Creek to worship. On January 24, 1770, an agreement was signed with Providence Presbyterian Church to officially form CLEAR CREEK PRESBYTERIAN CHURCH, to stand and abide by each other and to share the labors of a Gospel Minister.

Thus, began the history of one of the oldest churches in the just named county of Mecklenburg.

In each week's church bulletin, a Kerr Kronicle will tell a snippet of interesting facts chronicled in The Presbyterian Gathering on Clear Creek, a history of the church written by Rev. Russell Kerr, a former pastor. Videos of interviews will be shown on the sanctuary monitors regularly.

On your birthday in 2020 be sure to contribute the amount of your age (we won't tell)to the Birthday Endowment. It's a great way to help finance the Building and Grounds Ministry and our beloved aging buildings. And then—please remember the birthday of the church and give an additional $250 during the year. Watch for special events throughout the year.

Happy Birthday Philadelphia!
---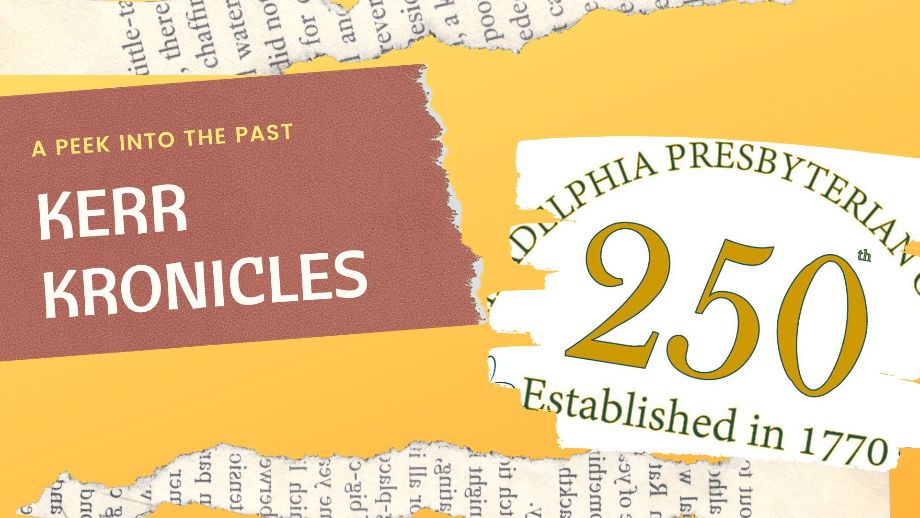 ---
Plans are well underway for year long events leading to our 250th Anniversary Celebration beginning in January. We are looking for volunteers to help out with these events, such as tour guides (in costume, which we will provide), greeters, historical researchers, display and exhibit enthusiasts and more. Join in the fun of this significant celebration.
If you want to volunteer, interview or donate frames, contact Becky Griffin 704-545-5766 or .
---
HISTORY OF PHILADELPHIA PRESBYTERIAN CHURCH