APPLY ONLINE OR DOWNLOAD A PDF OF THE APPLICATIONS BELOW.
All applications and required supporting documents are due by April 1, 2023.
-------------------------------------------------------------------
APPLY ONLINE HERE:
Undergraduate Students Apply HERE
Graduate Students Apply HERE
Financial Aid Applicants ALSO Complete a Financial Declaration HERE
-------------------------------------------------------------------
DOWNLOAD & PRINT APPLICATIONS:
Elizabeth Caldwell Junker Scholarship Application (pdf)
James Lee Miller, Jr. Undergraduate Scholarship Application (pdf)
Anne Tweed and Baxter Bigham Scholarship Application (pdf)
SCHOLARSHIP TYPES & 2022 AWARDEES
THE ELIZABETH CALDWELL JUNKER SCHOLARSHIP
The Elizabeth Caldwell Junker Scholarship was established in 1986 by Harrell Junker, Carolyn Irvin, Becky Griffin, George Junker, and Norman Junker in memory of their mother, Elizabeth. It has now been in existence for 36 years and has awarded more than 30 scholarships. Candidates are evaluated on their scholastic achievement, community service, and strength and determination of character. The scholarship is an annual award of $4,000.00 which is renewable annually for up to four years. The total value of the scholarship this year is $16,000.00. The recipient must maintain the criteria for the scholarship.
The Junker Scholarship was the first endowment established at PPC. We currently have 3 active Junker scholars. Carly Szymanski who is a recent graduate of Appalachian State, Noah Santiago who is a rising Senior at UNC Chapel Hill, Asha Mullis who is a rising Junior at UNC Chapel Hill, and Christopher Andrews who is a rising Sophomore at UNC Chapel Hill.
RECIPIENT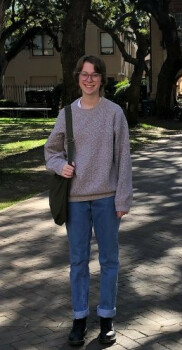 Regan Fauser
We are pleased and proud to announce the recipient of the Junker Scholarship is Reagan Fauser. Reagan is the daughter of Robert and Jennifer Fauser.
Reagan is an exceptional young woman who has a passion for changing the world. In her studies, Reagan is driven and motivated to always do her best. She is a scholar and an avid learner, dedicating herself to her many AP and honors classes and maintaining a place in the top 20% of her class. She "truly loves to learn," a quote from one of her glowing letters of recommendation.
Reagan is persevering, loyal, caring, and hardworking in her studies, extracurriculars, and relationships. She enjoys volunteering, photography, gardening, and working at Harris Teeter. She is also an active member and leader in the church youth group and has cultivated many lasting relationships through the church.
Next year, Reagan will be attending the Honors College at the College of Charleston. She will major in marine biology with the hopes of making a career out of the ocean. Her kind, passionate, and generous spirit are evident in all she does. We know that Reagan will be a world-changer and are proud to be a small part in her story.


THE ANNE TWEED AND BAXTER BIGHAM SCHOLARSHIP
The Anne Tweed and Baxter Bigham Scholarship was created in 2018 in memory of Anne and Baxter Bigham who were leaders in this church and the Mint Hill community. A kind, humble and perfect gentleman, Baxter Bigham was Elder Emeritus, teacher of the Harkey Bible Class for 34 years, member of the VFW Post 4059 and preached a few sermons. Shortly after his death in 1981, the Fellowship Hall was renamed the James Baxter Bigham Hall. A kind, sweet and energetic lady, Anne Tweed moved to Mint Hill from Madison County, NC and taught the fifth grade at Bain Elementary School for 34 years. Her positive influence on her many students is still remembered today. The purpose of this scholarship is to grant annually an undergraduate scholarship to a deserving member of Philadelphia Presbyterian Church and/or a resident living within the legal corporate town limits of Mint Hill for study as a full-time student at an accredited college or university. The award is based upon scholarship, community involvement and strength and determination.
We currently have three Bigham Scholars; Avery West who is attending the University of North Carolina at Chapel Hill, Kaitlyn Szymanski who is attending Appalachian State University, and Christopher Andrews who is attending UNC Chapel Hill.
RECIPIENT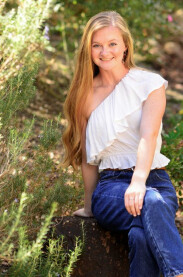 Holland Stanley

We are thrilled to announce the recipient of the Anne Tweed and Baxter Bigham Scholarship is Holland Stanley. Holland is the daughter of Boyd and Amy Stanley.
Holland is a wonderful young lady active in her school, her church, and her community. Holland is an exceptional student ranking in the top 20 of her class. Her academic standing is impressive alone, even more so when you learn of her many extracurriculars and passions.
Holland is a member of the National Honor Society and Student Government; a volunteer at church and non-profits; a competitive cheerleader and competitive dancer; works as a tutor, dance teacher and hostess at a local pizza restaurant. Her ability to balance and excel at so many wonderful things is rare and special.
Holland is compassionate, empathetic, organized, and kind. All these attributes will surely serve her well on her quest to become a nurse. She will be attending Appalachian State University in the Fall with the hopes of joining the Nurse Core and then pursuing full time nursing in pediatrics or oncology. She also hopes to join the dance team at Appalachian. Most of all, Holland hopes to "serve as God's hands" when working with patients and provide them a comfort and peace through her faith. We have no doubt that Holland is off to do great things and we are honored to be a part of her incredible journey.

JAMES LEE "JIMMY" MILLER, JR., 2022 SCHOLARSHIPS
Undergraduates may apply to one of two James Lee "Jimmy" Mil- ler, Jr. $1,000 Scholarships based on scholastics and/or financial need, strength and determination of character and at least a 3.0 GPA. Graduates may apply for a $2,000 scholarship based on scholastics and/or financial need, strength and determination of character and at least a 3.0 GPA. One of the unique things the ap- plicants for these scholarships are asked to do when applying is to let us know their involvement in Philadelphia Presbyterian Church and the community. This plays a big part in determining the recipi- ent because of Jimmy's devotion to the youth of this church and his strong belief in keeping them involved and being the hands and feet of Christ. The first thing on his "bucket list" of things he would like to do, if time permitted and funds were no object, was to establish a scholarship for members of our church to help further their education. Please continue to support all our graduates by keeping them in our thoughts and prayers as they take their next steps to becoming future leaders in our church and world. His family is honored to fulfill his wish and would like to thank all those who have supported our young people, kept them in church and will continue to support them throughout their lives.
RECIPIENTS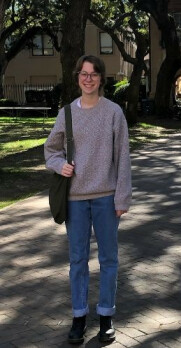 Reagan Fauser

Graduating from Porter High School, Reagan is the daughter of Robert and Jennifer. She will attend the Honors College at the College of Charleston in the fall to begin her studies in Marine Biology. Reagan has grown in her Christian faith at Philadelphia, being active in all aspects of its programs, Wonderful Wednesdays, acolyte, singing in the choirs and most recently in the Youth Group where she has served on the Youth Committee, volunteering in their mission projects. She has volunteered at Justice Ministries by raising money to assist in their goal of sex trafficking and sexual exploitation of women. She has packed kid's snack packs, Christmas boxes and meal packets, taken children who live in poverty on nature walks, cleaned Title I schools, created care packages for teen moms and made cards and delivered cookies to the elderly of our church. Reagan has taken care of babies, pets, and taught swimming. God works in amazing ways in our lives and Reagan said she experienced this firsthand when, as a high school student one of her hardest challenges was turned into a very successful outcome with the youth group. As the only upper classman to go on a girl's retreat she found herself surrounded by "rambunctious" middle schoolers. She came to realize they looked up to her and friendships were formed that previously would not have been. While at Porter Ridge High School she was in- volved in the BETA Club, National Honor Society, Mu Alpha Theta and Multi-Culture Clubs. She was a member of the AP Capstone Program.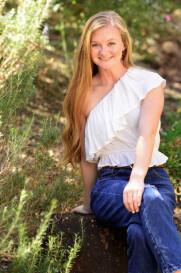 Holland Stanley

Holland is the daughter of Boyd and Amy. She is graduating from Piedmont High School with her Nurse's Aide certification. Holland will be attending Appalachian State University in the fall where she will be seeking her Bachelor of Science degree in Nursing and then she plans to join the US Army Nurse Corp. Holland has been active at Philadelphia since kindergarten, singing in the choirs, serving as acolyte, participating in vacation Bible school and attending Wonderful Wednesday. She designed artwork for retreat t-shirts and served on the Youth Committee, helping plan their activities. She volunteered at Vacation Bible School, with Kington Kids and nursery and helped lead worship on Youth Sundays. Holland worked with Room in the Inn where she gained an appreciation for God's blessings in her life. She expressed her appreciation for her church family and the support she has received in preparing her for the next stage of her life. While at Piedmont, Holland has held offices in the Health Occupations Club, Student Government, Unified Champion Schools, was in the National Honor Society, participated in JV and Varsity Cheerleaders. She has been an assistant dance coach and choreographer. She was nominated for the Morehead-Cain Scholarship. Holland wants to serve children or patients battling cancer. In talking about her career, she said she would like to be the nurse that families will remember as providing light in the midst of dark- ness and uncertainty, that it would be amazing to serve as God's hands in her everyday job, giving her the opportunity to witness God's work many times over.

Jacob Taylor

Jacob, son of Lynn, is a graduate of Independence High School and Central Piedmont Community College. He will be attending the University of North Carolina at Charlotte in the fall. While in middle school, Jacob started attending Philadelphia, he joined the junior and senior high activities and enjoyed being a part of the basketball team when they won the championship, fellowshipping with the youth on Wednesday nights and Bible study. While a student at Independence High, Jacob became interested in computer technology. While participating in the IT Club he built his own functional computer from old hardware components. He had the opportunity to be a leadership intern at Camp Invention at Bain Elementary School, being a role model and leader to young aspiring inventors and a mentor to counselors in training. The children created arts and crafts by working with materials such as sharp, heavy tools and devices that store electrical energy in electric fields. As an IT Club President, he organized events and their club entered the National SeaPerch Underwater Robotics Competition. They built two robots and won the regional competition. His senior exit project required him to have a minimum of 15 service hours. He ended up with 298.85 hours as a Humane Society of Charlotte volunteer. He thoroughly enjoyed working with the animals, preparing their meals, training dogs and keeping the facilities clean. Jacob's current employer says of him, "he embodies our values of guest first, working together, personal excellence, continuous improvement, and stewardship. Majoring in fine arts, Jacob is interested in photography, painting, 3-D, sculpting, drawing but mostly in film. He has traveled to Morocco, the western Caribbean, Honduras, and the Island of Cozumel with family where he made films.