The Bulb – We partner with The Bulb to bring a mobile product Market to PPC every Thursday. Together, we are creating a world where food is a right and not a privilege. It is free for everyone in the community. There are no qualifications, no one is turned away. If you have been at work all day and are exhausted, and seeing a friendly face is what you need most come. If you are just barely making it and the market would be the difference in your weekly budget, come. If don't know where your next meal is coming from, we definitely want you to come and come often. Each of you are the reason we do what we do. We are the church. We are family.
A majority of the produce comes from small, sustainable North Carolina and South Carolina farms that are working to meaningfully connect local produce to the community.
---



BACKPACKS OF LOVE MINISTRY

A great, safe way to shop and support Backpacks of Love is by using our PPC Backpacks wishlist on Amazon. Items that you purchased will be delivered for you. Thank you for supporting this very special and important ministry. Read more about Backpacks of Love in Outreach Missions.
---
THE SENIOR NUTRITION PROGRAM
Hot Meals Program....If you live in Mecklenburg County and you are 60 years of age or handicapped, you are invited to join us each day in Bigham Hall for the Hot Meals Program funded by Mecklenburg County. The program begins at 11:00 a.m. with a meal served at 12:00 noon. Volunteers are always needed to work in the kitchen or to deliver meals to the homebound. Call 704-573-2490 for more information or to register.
Senior Citizens Nutrition Program of Mecklenburg Country
---

RISE AGAINST HUNGER
Several times each year Philadelphia volunteers will gather in the Kerr Building to help construct at least 12,000 meals to be sent overseas to needy families in poverty stricken countries. This mission is called RISE AGAINST HUNGER and our participation will help offset one of the biggest problems in the world today. We will need at least 80 volunteers to complete this project that should take about two hours from start to finish. Lunch for the volunteers will be provided. Your support of this mission will be deeply appreciated by those facing hunger on a daily basis.
---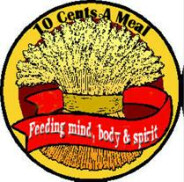 10 CENTS A MEAL PROGRAM
On the second Sunday of each month, we collect a special offering that goes to the Charlotte Presbytery to distribute to local agencies that provide hunger relief. We ask individuals to donate 10 cents per meal to help fight hunger.
---