THE MISSION: To Celebrate, inspire, and support homeless children, while offering fun and meaningful volunteer opportunities for both adults and youth.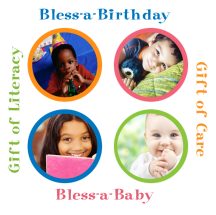 PPC IS BLESSED TO BE A BLESSING!
Bright Blessings is 501c3 non-profit organization with programs that will serve over 10,000 children in need across the greater Charlotte area this year. The mission of Bright Blessings is to bring joy, care and hope to homeless and impoverished children, while mobilizing community volunteers of all ages. The organization's four central programs include; Bless-a-Baby, Bless-a-Birthday, Gift of Care, and Gift of Literacy.
---
---

Bright Blessings was founded by PPC members, John and Amy Cervantes and their children, in 2005. In the early years, the generosity of our church members and a special Kingdom Project helped ignite support for the Cervantes Family's venture and, ever since, Philadelphia Presbyterian Church has continued to provide bountiful love, prayers and support for the organization's programs and services. As a result, our congregation has been an integral part of the Bright Blessings journey for more than a decade, giving generously of time, talent and treasure to impact thousands of young lives right here in our local communities.
PPC is actively involved in the programs of Bright Blessings, which is conveniently located in Matthews. Here are the many wonderful ways in which our congregation serves as the hands and feet of Christ in our community, making a difference for children struggling with poverty and homelessness:
Every week, our PPC Delivery Team brings joy and care to homeless students at schools in both Mecklenburg and Union counties. Volunteers pick up packages from Bright Blessings and take them to school administrators. Our PPC team members literally deliver kindness and support to homeless children every week! If you are interested in joining the PPC Delivery Team, please contact John Nofsinger (link to John's email).
PPC Youth and their leaders regularly engage in service work to support the children served by Bright Blessings. Youth members have spent many hours gathered together to fill snack bags, pack hygiene kits, prepare gift sets, create cards and wrapping paper, and much more. Youth groups have also participated in Bright Blessings' Adopt-a-Party program, where they have brought joy and care to hundreds of children at local homeless shelters. Through the years, the work of our Youth has made a positive impact for thousands of needy children!
Our Kingdom Kids are shining examples that you're never too young to serve! These precious children work with their Sunday School teachers and Program Leaders to collect much-needed items such as snacks, baby supplies, toys, school supplies and more to help local kids in need. They have spent their time on Sunday mornings and during Wonderful Wednesdays creating projects such as hand-making blankets, filling gift sets, or making cards. Our Kingdom Kids have huge hearts for service!
Through the generosity of the Presbyterian Women of PPC, Bright Blessings receives annual funding from Bazaar proceeds to help support the critical needs of the organization. These funds give much-needed support for supplies and services that make a direct impact in the lives of homeless children. Additionally, many of our Women's Circle Groups get involved through volunteerism and making contributions. These ladies are compassionate givers!
Thanks to the Men of the Church, Bright Blessings receives funding from PPC's annual golf tournament to sponsor program services. This support makes a huge impact for so many children every year, and our Presbyterian Men are grateful to make a difference.
Congregational Collection Drives are ongoing at PPC. We love to see our members fill bins and shelves with items that go directly into the hands of local homeless and poverty-stricken children. The generosity of our congregation is abundant!
Many of our PPC families, groups, classes and individual members give their volunteerism and support to the mission of Bright Blessings in different ways all throughout the year. Together, we are shining the Light of Christ into the lives of local children who need our gifts of joy, care and hope. It is a blessing to be a blessing! To learn more, visit www.BrightBlessingsUSA.org.